---
HEAL YOUR HEART ♥ 

CREATE WITH COURAGE

 ♥ 

LIVE WITH PASSION
---
 Have you ever wondered how the law of attraction really works? or if your thoughts, emotions, and attitude really do impact your life?
Want to learn how you too can manifest a $615 ticket to Bali,….. a free trip through the Panama Canal on a private 33ft yacht,…….enough money for a 4 mo adventure trip to Central America (in just over a month),….. a $600/mo one bedroom artist's loft on the beautiful beaches of Maui….. and/or any other dream you have?! These are just a few of the miraculous things I've manifested in my life! Come learn how you can do the same, and manifest whatever you want!
This powerful workshop is all about the science behind the law of attraction. Science is proving more and more that we are the creators of our own reality and the things we experience here on this planet. We are not just victims of circumstance. Through focused attention and intention we can create the experiences we want to have in the future. Our thoughts and emotions are extremely powerful in shaping our reality.
In this workshop you will learn:
Strategies to be a powerful co-creator in your life
Little known facts about our energetic nature

The latest science behind the law of attraction

Why so many people's minds are programmed to fail and therefore self sabotage

The power of your emotions in attracting things to you

3 steps to reprogramming your brain to creating lasting change

Tools to Harness the power of your mind to create what you want in your life

Techniques for Manifesting things quicker
 I have used the knowledge and tools I will teach you, to manifest many many things! These tools have helped me to live my own dreams and I am very excited to share them with you. I am passionate about living my dreams, and one of my dreams is to help others (like yourself) to live their dreams too! You can truly create whatever you want if you apply the spiritual laws of creation to harness the amazing power of your thoughts and emotions!
This information is priceless, however this powerful life changing course is just $99!
I invite you to join me!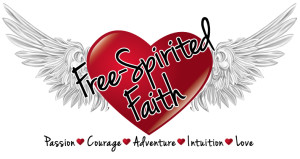 Heal Your Heart ♥ Create with courage ♥ Live with Passion
♥ Aloha,
Ashlee Peterson
Founder, Free-Spirited Faith
Send us an email to Ashlee@freespiritedfaith.com if you would like details on the next opportunity to learn how to completely transform your life!
---
HEAL YOUR HEART ♥ 

CREATE WITH COURAGE

 ♥ 

LIVE WITH PASSION
---